🦋Got Moths? 🦋 This closet did. The damage is usually confined to wools, silks, hair fibers or furs—all protein fibers. Moths can also cause heavy damage to piano felts and wool carpeting, generally in areas that rarely get vacuumed or cleaned.
These were from Casemaking Clothes Moths that can destroy your 👔clothing👚!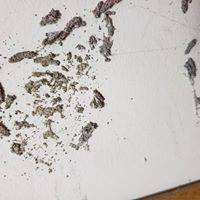 Bugs are more than just a nuisance. They can damage the structural stability of your house, burrow into your walls, create unsanitary conditions, destroy belongings and even bite your family.
Ask any homeowner who has suffered a loss of property, money and time to a pest infestation, and they will tell you the same thing: They wish they had known sooner. A specialized pest inspection on your prospective home can save you countless headaches.
Hire a Home Inspector that pays attention to 🔎detail🔎!
412-969-4388
www.allegiancehi.com
joshua@allegiancehi.com
#pittsburghhomesforsale #pittsburghhomeinspector #pittsburghrealestate #pittsburghrealtor
#Pittsburgh @ Pittsburgh, Pennsylvania