In short, the answer is simple… NO.  
 In the Pittsburgh area, a Home Inspector's main job is to evaluate the homes' true condition and report on the defects as is.  These defects are then explained in person and in a detailed report.  The result of Home Inspection helps the potential buyer better understand the situation to the fullest extent and be better prepared to make the decision whether they want to move forward with the transaction. Now the way in which the discovered defects are delivered or explained can certainly influence a buyer. Simply put, a Home Inspector should not present "mountains as mole hills" and they should not frame "mole hills as mountains".  This is why it is important to do extensive research into the Pittsburgh home inspector you want to hire. There is an old saying "You get what you pay for."  This saying usually rings just as true for houses as it does for Home Inspections.   
There are a couple of ways to make sure you choose the right Inspector for such a huge investment.  Make sure you take the time to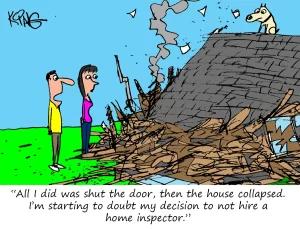 read over verified Google, Angie's List, and Home Adviser reviews. Check to see if they are certified, insured, and have an adequate amount of experience in order to be able to answer all your questions and inform you of the true condition of the home and all its visible components. 
Before you buy a home be aware that unfortunately in Pittsburgh's real estate market today there are a lot of unqualified people who are flipping homes.  A "flipped home" in short is home that usually bought cheap with the intention of putting minimum work into mainly the ascetics of the home in order to make it appear "move in ready".  These homes can excite unsuspecting first-time home buyers who do not see the potential problems with the other components of the home that were ignored such as the plumbing, electric, HVAC, exterior, etc.   Then comes the Home Inspection and the Home Inspector uncovers multiple defects the buyer had not even considered.  This is not a Home Inspection "killing the deal". This is simply a common example of an unsuspecting buyer who had unrealistic expectations, being shown the house in its true condition for the first time. The Inspector should not in any way seek to encourage a buyer to purchase a particular home, nor should they ever discourage the purchase or q home. A good Inspector will, however, observe and report on the visual defects of the home in order to inform and educate the buyer so that they can make the best decision for themselves and their family.